OUR PRODUCTS
Our products work across the entire customer journey - identifying a hotel's most valuable guests and helping them to book direct rather than through a third party. We work with thousands of hotels around the world which gives us an unmatched data scale and unparalleled rate of learning. This is used to supercharge hotel metasearch and retargeting campaigns, and to create website conversion tools that enhance the guest experience while increasing direct bookings for hotels.
WHAT DOES IT MEAN FOR OUR CUSTOMERS
It means no more paying unnecessary commissions to online travel agents. It means closer relationships with their customers and a better understanding of who they are and what they want. It means increased revenue and more time for hotel staff to focus on the work that matters (because we're automating the tricky stuff for them). It means a better booking experience for guests and easier time for everyone.

WHO WE ARE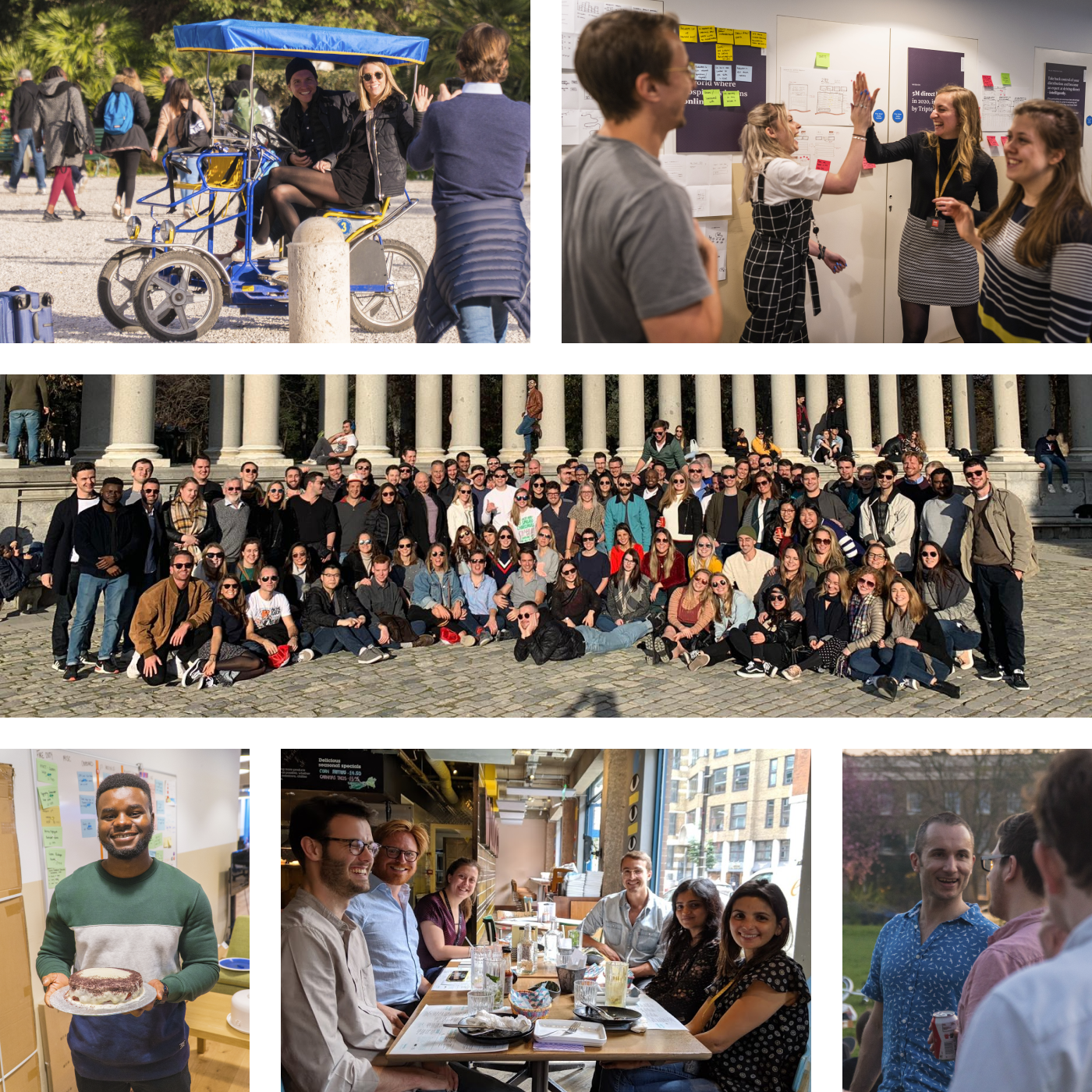 1. Bike tours in Rome at our company wide Christmas meetup; 2. Design Sprints are better when you high five regularly; 3. Triptease in Madrid; 4. The Annual Triptease Bake Off; 5. Prod-Eng lucky lunches - six people are randomly selected every week to have lunch together; 6. BBQ social in London Fields.

HOW WE WORK
As the company continues to grow, so does our commitment to small autonomous product squads. Each squad member is instrumental in shaping the future roadmap for their product, working as a team that includes a product manager, three to five engineers and a dedicated product designer or data scientist depending on their strategy.
We work on a remote-first basis meeting up four times a year. We also have offices in London, New York, Barcelona and Singapore.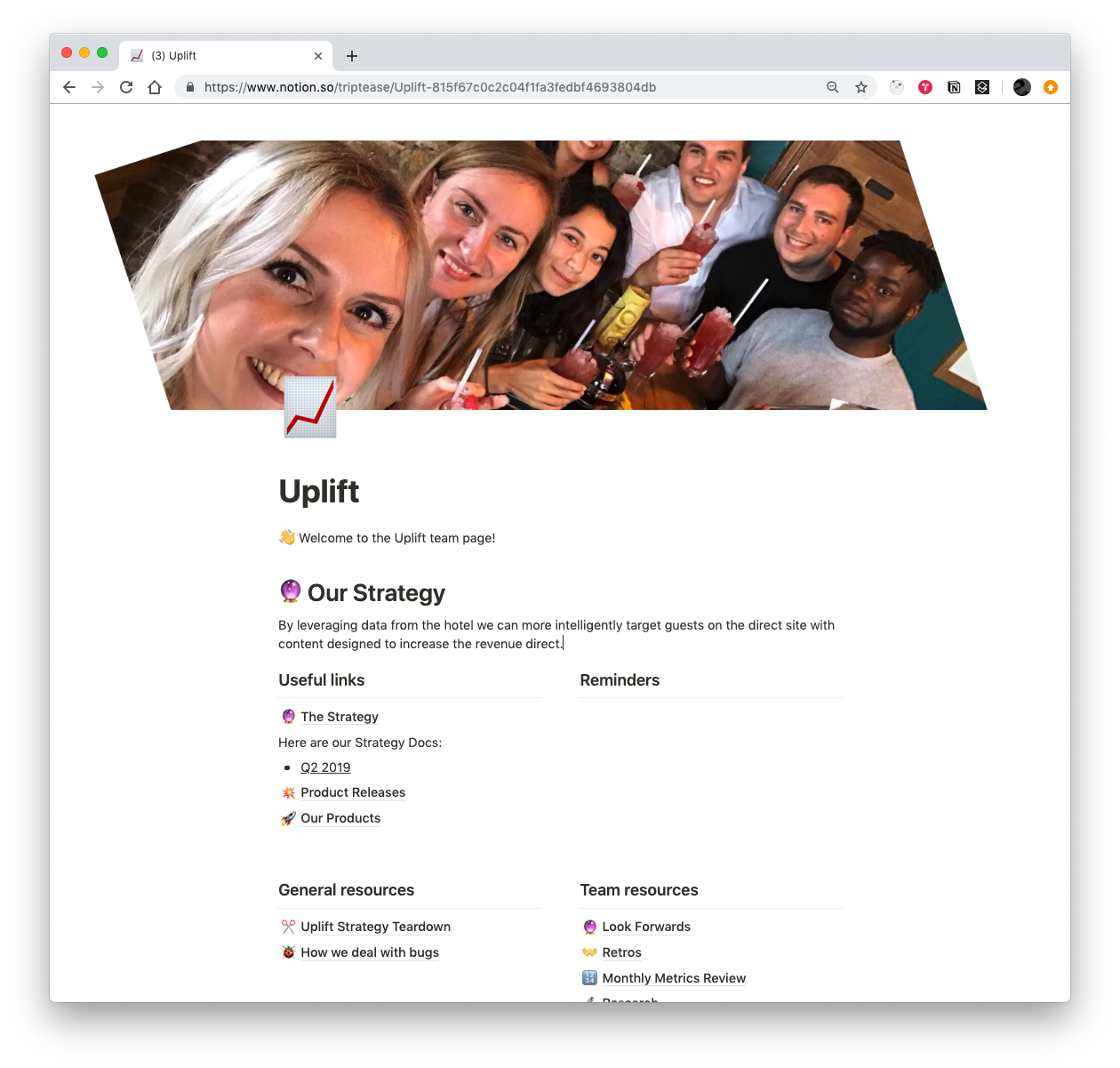 Triptease engineers work full stack, mostly in Typescript and using progressive libraries like React, Redux, Jest and Styled Components. Most squads pair, and we have dedicated pairing stations to help with this. Squads are encouraged to continuously improve through regular retros, team feedback sessions and dedicated learning time.
Triptease squads ship small increments, often. The teams push to production many times a day with the ease provided by automated deployment pipelines, the confidence afforded by automated test suites, and accurate monitoring and alerting systems.
We work hard to reduce friction - from the way we research, build and deliver software, to the way teams run and self-organise. We automate as much as possible.
We believe people flourish with autonomy over their tasks, the chance to develop their skills, and a purpose to ensure their work is meaningful. We're proud of what we build and how we build it - but we continue to constantly evaluate the tech and processes we use. If you have an idea about how we could do better you're always free to test it out.

HOW WE HIRE
We hire smart people, and trust them to do what's right for the customer and for the business. If you want to work at a company that values your experience, opinions and insights, then Triptease is the place for you.
Our hiring process is roughly the same for all roles but with variations depending on the role. For example portfolio reviews for Design, tailored assessments or exercises for Engineering, Product Management and Data Science.
Phone screen

Meet the team; interviews and tailored assessments / exercises / portfolio review

Meet a member of the Senior Management Team

WE LOVE WORKING HERE
We think Triptease is an amazing place to work, but we're mindful of the risks that face a fast-growing startup. Our commitment to diversity and an inclusive culture is powered by the whole business, with regular feedback and surveys to keep track of how we're doing. We know we can always get better, but the numbers speak for themselves - we score 4.5 on Glassdoor.
I know how my work contributes to the goals of Triptease

My manager genuinely cares about my wellbeing

I am appropriately involved in decisions that affect my work

I would recommend Triptease as a great place to work

The systems & processes help us get our work done effectively

*Numbers taken directly from our Culture Amp engagement report.

DIVERSITY & INCLUSION AT TRIPTEASE
We're working hard to make Triptease a truly diverse and inclusive place to work. There's still more to do, but we're 100% committed to making it happen.
👩‍💼 Female employees (45%)
🌎 Ethnic backgrounds (20%)
🏳️‍🌈 Identify as LGBTQIA (14%)
🧠 Neurodivergent (10%)