What do we do
Appear Here is the leading marketplace for flexible retail, working with everyone from industry leading brands to exciting start-ups. From the guy with just an idea to the established brands like Chanel, Nike, Spotify and Netflix, we are here to make their idea happen by connecting them to the best spaces globally and providing a seamless experience to match their different needs and aspirations.
We've raised over $20m in funding to date - from tier one investors Balderton and Octopus, as well as some of the biggest in the retail and property industry, such as Natalie Massenet, founder of Net-a-Porter. Named one of Wired Magazine's '100 Hottest Start-Ups' and The Financial Times' most 'Disruptive Companies', Appear Here has become the go-to destination to make innovative and creative retail ideas happen across London, Paris and New York. We believe we're building a game changer for both the retail and property industries, and so far 200,000+ brands and thousands of landlords joined our mission.
As a part of our Product team, you will be a key part of revolutionising our platform and bringing new features to life. You'll be building an amazing user experience for brands and landlords globally. As well as creating a seamless backend platform for our Concierge Team and Landlord Partners.
Exciting challenges lie ahead—new destinations, technologies, and services. It's a great time to join and be part of our increasingly diverse team that focuses on finding creative solutions and empowering our global community. Come join us!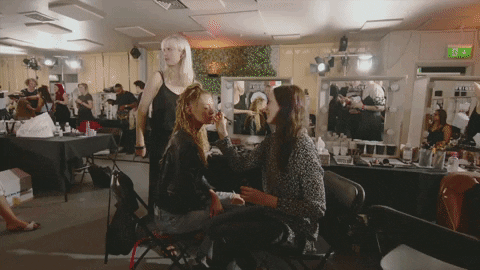 We help power events like London Fashion Week
---
Our values
No bullshit
We don't do politics or excuses. We say it how it is, even when it's painful.
Own it
We don't talk about ideas, we make them happen.
Punch above
If our ambitions aren't terrifying, we aren't pushing ourselves enough.
Think frugal
We're a small company with big ambitions.
Always commit
As a team, we always commit to the decision that's been made.
Do right
It's simple: do the right thing.
---
Engineering at Appear Here
As for our tech stack, our backend is a Ruby on Rails application, backed by PostgreSQL. The majority of our frontend applications are written in React, and we enforce static types with Flow. We also run GraphQL to expose our main API to our frontend applications. Our entire infrastructure is on AWS, which is provisioned using Terraform. We run our applications on Kubernetes (EKS). CI/CD follow GitOps principle and we currently use CircleCI as our CI tool of choice. We follow a structured Kanban process so everyone on the team knows what's going on. We also use Algolia to power all our search-related features. For our data science projects, we use Python along with Redshift, AWS Sagemaker, and PostgreSQL extensively.
We support open-source software and we try to contribute and share whenever it is possible. Here are a few of our public projects:
Our product engineering team is currently 10 people, and best of all we have a couple of office dogs named Otto and Eddie 🐶 🐶.
---
Our recruitment process
When hiring developers for our Product team at Appear Here, we aim to find the right balance between (1) giving you the necessary information about us and what we do so that you can make an informed decision about your next career move, (2) evaluating your technical skills and cultural fit and (3) appreciating that you're most likely interviewing at a handful of companies which can take up a substantial amount of time during and outside of your current day job.
We like to move quickly so we've created this three-step process that typically takes one week from start to finish (i.e. from your CV submission to sending you an offer).
Step One: Initial 30 Minute Phone Call
Step Two: One Hour Live Coding Challenge via Video Conference
Step Three: One Hour Technical Conversation with Our Engineers
Step Four: In-person "Culture Board" Interview
Tip: You can find more detailed information about each step here:
https://medium.com/appear-here-product-engineering/how-we-hire-product-developers-at-appear-here-9a2a684b1b08
---
What else?
What can you expect
Plenty of social activities, including board games evening at the office, product team nights out (bowling, darts, mini-golf, and more) and a monthly product team lunch at a local restaurant
Hear from amazing speakers within different industries. Appear Here hosts an 'Underground Session' event each month, inviting 4 experts to share their experiences and opinions. We also have an internal 'Global Gathering' once a year which includes exclusive talks from investors, industry-leading brands, and inspiring members of our community.
Sharing culture through our Product talks. If you have learned something new, this is the place to share it with the team through a short presentation.
Team Friday lunch once a week our company comes together for a team lunch. This is an opportunity to get to know people from different teams while enjoying dishes from our favourite local restaurants.
---
Other useful links
The Product Blog – learn more about our day-to-day as well as our technical challenges and ambitions.
https://medium.com/appear-here-product-engineering
Appear Here's Youtube – get inspired with our community videos, campaigns and talks held by Appear Here.
https://www.youtube.com/user/AppearHere